LINE UP
COULT 45 | CURTIS T. & THE DUFFEL BAG BOYS
VALLEY GROOVE COMPANY | WAV-E
 ARTISTRY | GREYLOCK | JERO  KNUTTYBIRD | LUCVS | OBASSIS  RIGZ BEATS | SANNADA | SHTYLAH | WYLIE FOX | BERKEL BEATS | PAUL REVERE | SLOWLUNG | COOL HAND | PIRATE SENSEI | DJ TACHE
WITH SPECIAL OFFERINGS FROM:
ALYA HOWE | ALLY MORRISON | CLAIR DE L'ARBRE | CURRENT RITUAL | DANIELLE KLEIN LIGHT ANCHOR ALCHEMY | MACY PETTY | MOON SAILOR | OLIVIA PEVEC
SOLFIRE ENTERTAINMENT | SOPRIS SOARERS | DANCE OF THE SACRED FIRE
RAINBOW LIGHTNING CHILDREN'S ZONE
LET THE FESTIVITIES BEGIN!
Welcome to Grovestock, the Roaring Fork Valley's very own festival of the arts, music, and movement! We're excited to invite you to experience a weekend full of expression, adventure, and connection at Sunlight Mountain. Whether you're seeking live music during the day or late-night EDM sets until 3:00 AM on the main stage, we've got you covered. We would love for you to participate in building YOUR art and join our volunteer team to help make this event even more special. Plus, explore our festival map to plan YOUR adventure, peep the lineup, buy tickets or even apply for an art grant. Don't miss out on this three-day, two-night event filled with good vibes and fun!
FESTIVAL HOURS:
Friday 10:00 AM – 3:00 AM
Saturday 10:00 AM – 3:00 AM
Sunday 10:00 AM – 5:00 PM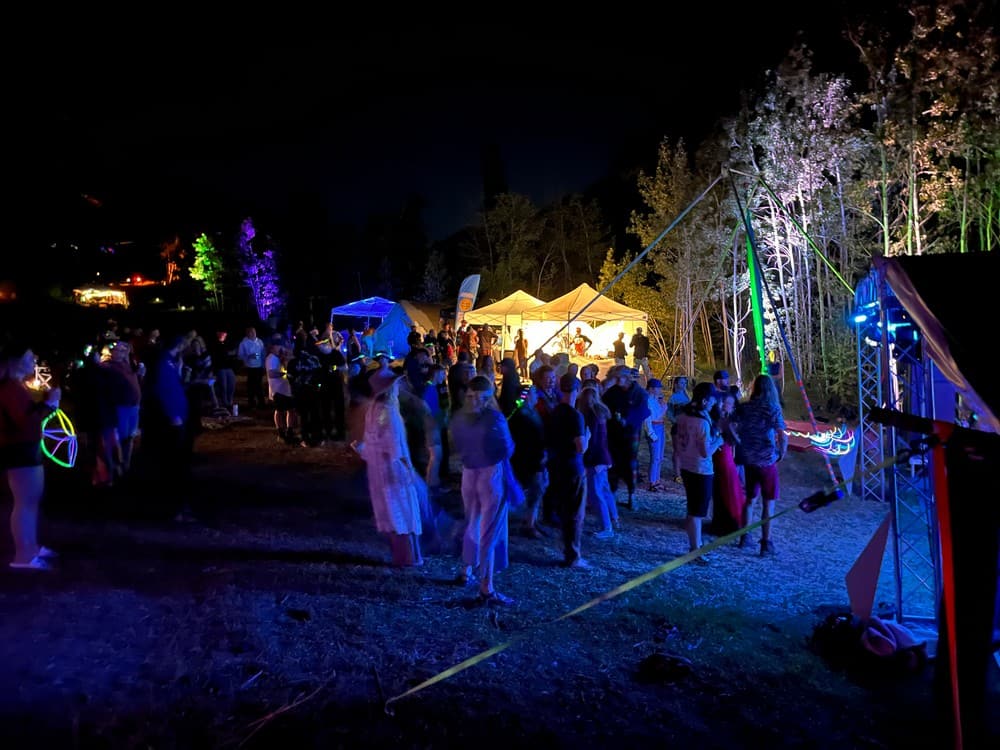 PLAN YOUR EXPERIENCE!
There is truly something for everyone at Grovestock. Whether you are a family seeking a weekend getaway or a late-night party animal, planning your experience and knowing what to bring can help you choose the right ticket for the desired experience. Click below to start planning your festival experience and get tips on what to expect.
Tickets for Grovestock can be purchased online or at the gate.
The ticket gate opens on Friday, September 1st at 10:00 AM.
The festival closes Sunday, September 3rd at 5:00 PM.
It is recommended that you purchase tickets in advance to avoid long waits at the gate.
Weekend Access Pass:
Access Friday, Saturday, and Sunday.
Recommendation – If bringing a vehicle to the festival please purchase a Weekend Parking Pass or Camping.
Friday Access Pass:
Single Day Only
Must purchase a single day parking pass or camping
Saturday Access Pass:
Single Day Only
Must purchase a single day parking pass or camping
Sunday Access Pass:
Single Day Only
Must purchase single day parking pass
To ensure your comfort during your stay at the festival, it's important to bring everything you need for camping and outdoor adventure. Keep in mind that this is early September in Colorado, at an elevation of 8000 ft. Be sure to bring adequate clothing, footwear, lights, water, tarps, padding, and shade.
Here are some ideas for items you should bring: headlamp and lights, exterior camping lights, water bottle, sunscreen, blanket, camping chairs, warm clothes, debit or credit card, good hiking footwear, costumes, decorations, flow art equipment, camp snacks, late night snacks, yoga mat, hula-hoops, bubbles...ect.
* Late night food may not be available, so please plan accordingly.
* Please note that you may not have cell phone service, so plan accordingly.
* Please note that no alcohol will be allowed past the Festival Entrance Gate. Sunlight's Bar(s) will provide drinks inside the Festival Grounds.
📢 Grovestock Festival 2023 is rolling out the red carpet for YOU! Be a part of crafting the most legendary festival experience of the year right in the heart of the mesmerizing Colorado mountains.
🛠️ Your Mission: Lend us your passion, your skills, and your energy to build and breathe life into Grovestock. From setting the stage to ensuring every moment runs smoothly, your role is the heartbeat of this fest.
🎿 What's In It For You?
Strap on those skis and glide! Earn a Day Ski Pass for the 2023-2024 Ski Season at Sunlight Mountain. (Yes, we're serious!)
Become an honorary member of the Grovestock family, reveling in the joy and memories that only such an epic gathering can offer.
The gratitude of thousands as your efforts turn Grovestock into the event of a lifetime.
🤝 Grovestock's Heartfelt Note: We're more than a festival; we're a community. And our community thrives because of volunteers like YOU. Your commitment, enthusiasm, and sheer hard work are the backbone of this magical event. From the deepest parts of our Grovestock heart, thank you.
🌠 Ready for the Adventure? Hop on this wild ride and etch your mark on Grovestock 2023! Sign up, team up, and gear up for the most unforgettable adventure in the Rockies!
Let's rock Grovestock together! 🏔️🎵🎪🤘
🌠 Wanna Be a Star Vendor? Here's How:
Bring quality, service intent, unique merch, and art that dazzles.
Hop on the application train and pay your fee before the clock strikes August 15th.
Keep your eyes peeled! A Grovestock aficionado will send you a Vendor Agreement and payment pointers.
Rainbow Lightning Children's Village
With a heart full of love and hands dedicated to the future, we're all about fostering our little champs in the realms of sustainability, wellness, and boundless creativity.
🎨 Weekend Wonders for the Kiddos:
Unleash colors with tie-dying and face painting.
Stitch dreams in our sewing sessions.
Dive deep into nature with our sustainability and primitive skills workshops.
Stretch out at our daily yoga and qi gong sessions.
Take center stage during our open mics and let the little voices be heard!
🌿 Eco-Heartbeat:
Feel the rhythm of nature as we roll with our custom solar-generator, because every fun activity we offer goes hand in hand with our love for Mother Earth. 🌍
💌 Join the Movement:
Support the bright sparks of tomorrow! Consider donating to the passionate Rainbow Lightning Team and play a part in crafting magical memories for our young visionaries.
🔒 Safety First:
For all attendees 17 and under, remember that a parent or legal guardian's warm embrace is required at all times.
🔍 Know More:
Stay in the loop and dive into the colorful world of Rainbow Lightning by discovering more here www.rainbowlightning.org
Join us in celebrating childhood wonder at Grovestock! 🌟🎪🎈
Camping passes may be purchased separately online or at the gate. Space is limited, so it's recommended that you purchase your camping pass in advance. Please bring everything you need to camp, especially headlamps, lights, good hiking footwear and water.
The camping area at Sunlight will be divided into three main sections:
Parking Pass
Single Day Parking -

vehicle must be moved by 9:00 AM the following day.
Weekend Parking Pass - parking valid from Friday 10:00 AM to Sunday 5:00 PM.
Tent Camping
Camping includes one vehicle and the ability to camp in the "meadow" in a tent.
Premium Camping
20 x 20 Camping Site is nearest to festival grounds – Includes space for one vehicle.
*Please keep in mind that some lighting will be used throughout the night for safety purposes.
*Security personnel will also be available and roaming the area.
Float into the vibes of our Resonance Tent! 🌌 From shimmying your spirit at the Ecstatic Dance to soaking in serene sounds at the Sound Bath, we've crafted a stellar lineup to awaken all your senses.
🎵 Friday Groove:
2:00 PM: Unleash your inner dancer with our Ecstatic Dance party!
🌞 Sensational Saturday:
8:00 AM: Start your morning immersed in a soothing Sound Bath!
9:30 AM: Stretch and strengthen with our morning Yoga session.
12:00 PM: Tap into the rhythm of your soul with our Embodied Movement Activation.
2:00 PM: Swirl into fun at the Hula-Hoop Workshop!
4:00 PM: Dance your heart out, again, at Ecstatic Dance.
🌄 Soulful Sunday:
9:00 AM: Ride the waves of Primal Flow Vinyasa.
11:00 AM: Harmonize your soul at the Singing Workshop.
Enliven your senses and let your soul resonate with joy! 🌠🎉 See you at the Resonance Tent!
🌳 Explore & Engage:
Wander and wonder at the hidden treasures that dot the festival landscape.
Share a moment in the whimsical Hammock Forest, or find the electric drum.
Chat with fellow artists and dive into the stories behind each masterpiece.
🙏 Artistic Respect:
We treasure the artistic soul of Grovestock. Let's keep the magic alive by honoring each artwork and its creator. Revel in the beauty, but remember to handle with care.
🎉 Join The Grovestock Community:
It's not just a festival; it's a union of art, rhythm, and souls. Dive into the culture, share your creative genius, and become part of the Grovestock legacy!
Can't wait to see your art shine at Grovestock! 🎶🖌️🌲🔥🌌
Do's:
Wristbands: Attendees must wear wristbands at all times.

Fire Safety: Be extremely careful due to dry conditions.

Smoking: Dispose of hazardous smoking materials into a pocket ashtray pouch.

Cleanliness: Maintain a leave no trace policy.

Driving: Limit speed to 5 mph on roads.

Water: Bring enough water for each person.

Cooperation: Engage and participate.

Kindness: Be amiable, socialize, and make new friends.

Music: Bring instruments; there might be open mic opportunities.

Safety: Use common sense, don't act recklessly.

First Aid: It's recommended to bring your own kit.

Dance: Enjoy and dance freely.

Attitude: Maintain an open mind.

Art: Bring your creations to showcase or share.

Gifts: Group gifts are encouraged.

Bring warm clothes if you are staying overnight

Bring headlamps
Don'ts:
Dogs: No dogs.

Fires: No personal campsite fires.

Underage Drinking: Strictly prohibited.

Alcohol: No outside alcohol on the festival grounds.

Glass: Not allowed.

Fireworks and Lasers: Both are not allowed.

Weapons: Firearms or any other weapons are strictly prohibited.

Unauthorized Fires: No open fires or unauthorized fire dancing outside of designated zones.

Generators: Not allowed in camping areas.

Reentry: No entry or reentry after midnight.