Daytime Hours:
Friday 12:00 PM – 9:00 PM
Saturday 11:00 AM – 9:00 PM
Sunday 11:00 AM – 5:00 PM
Night Hours:
Friday: 8:00 PM – 3:00 AM
Saturday: 8:00 PM – 3:00 AM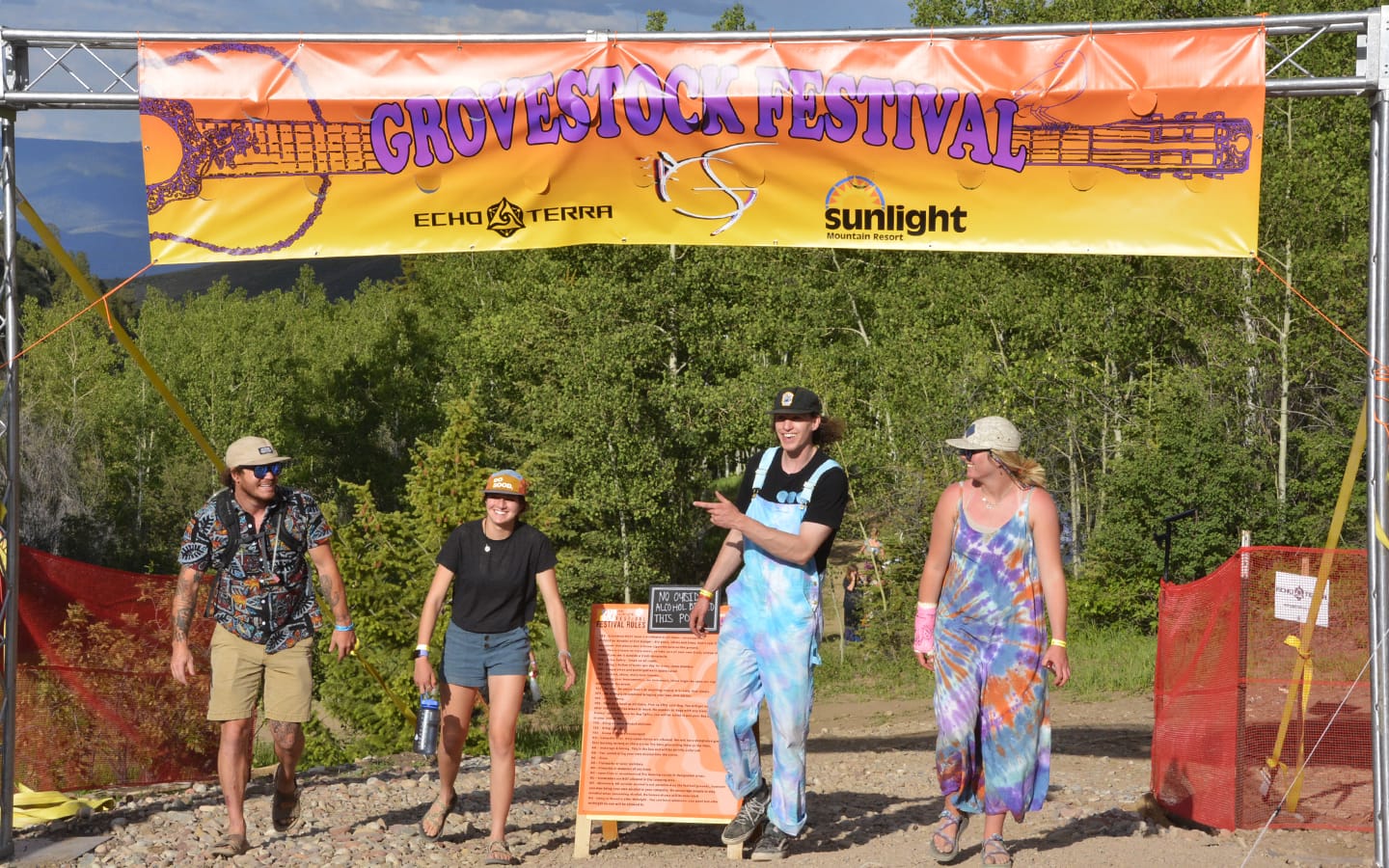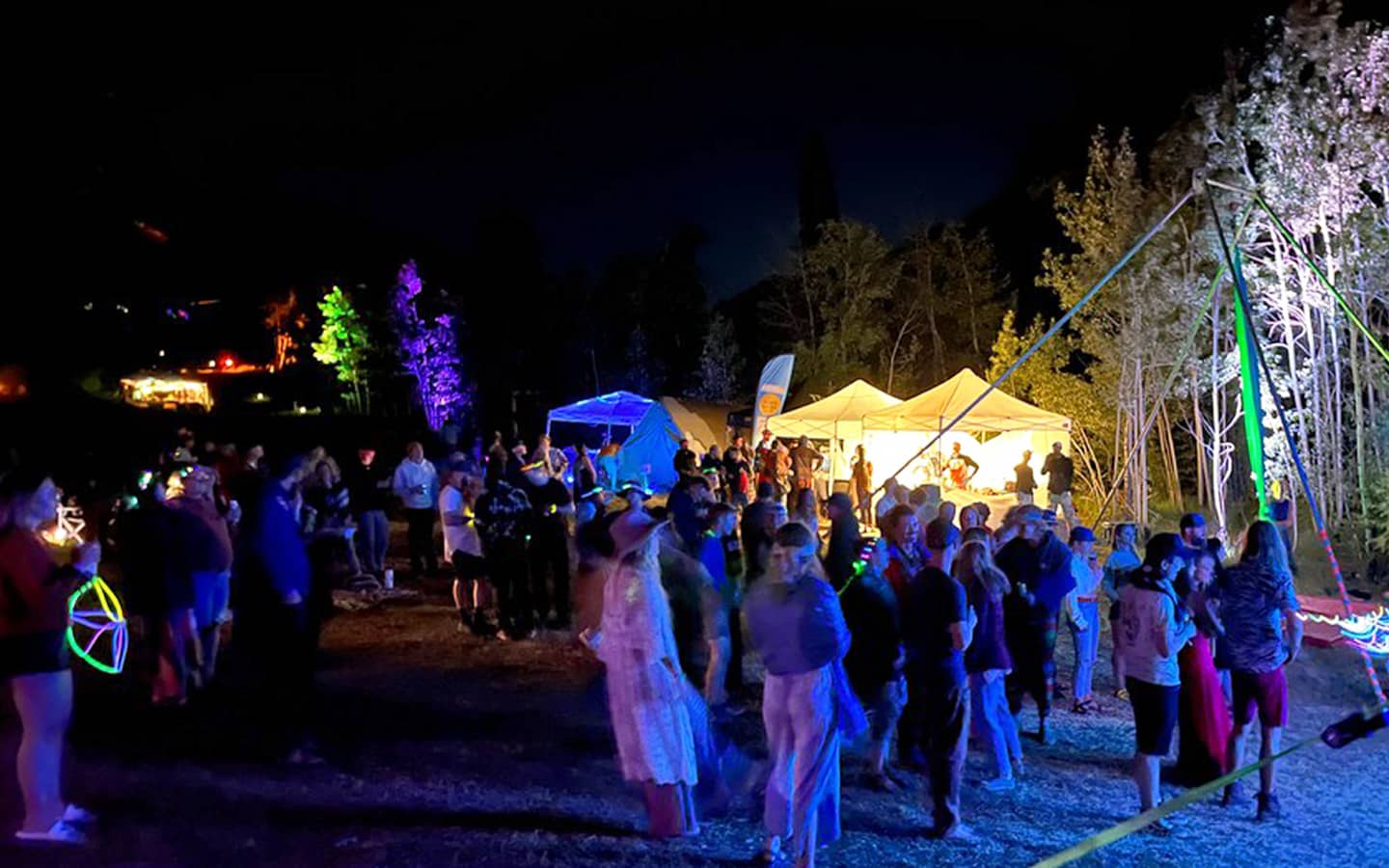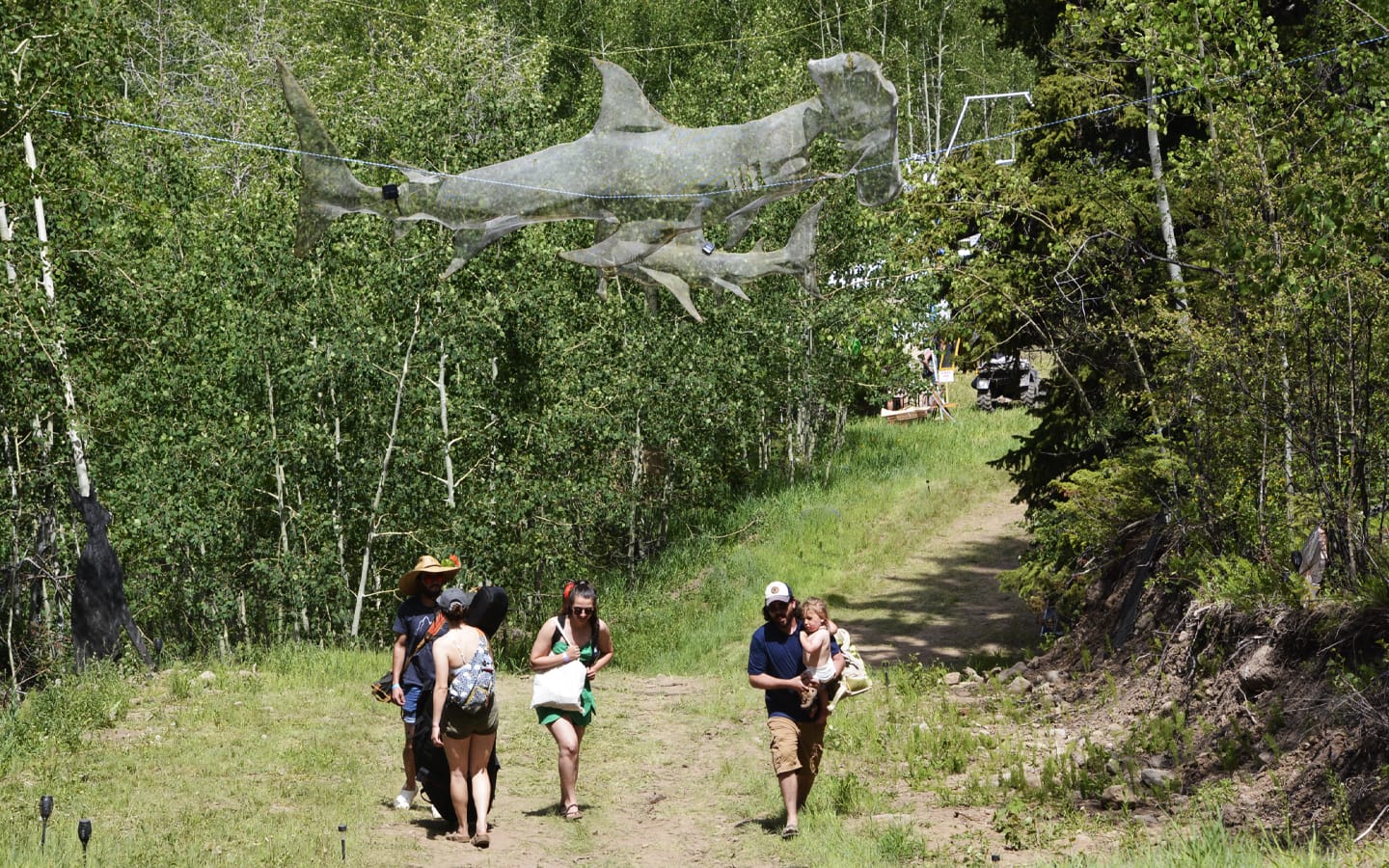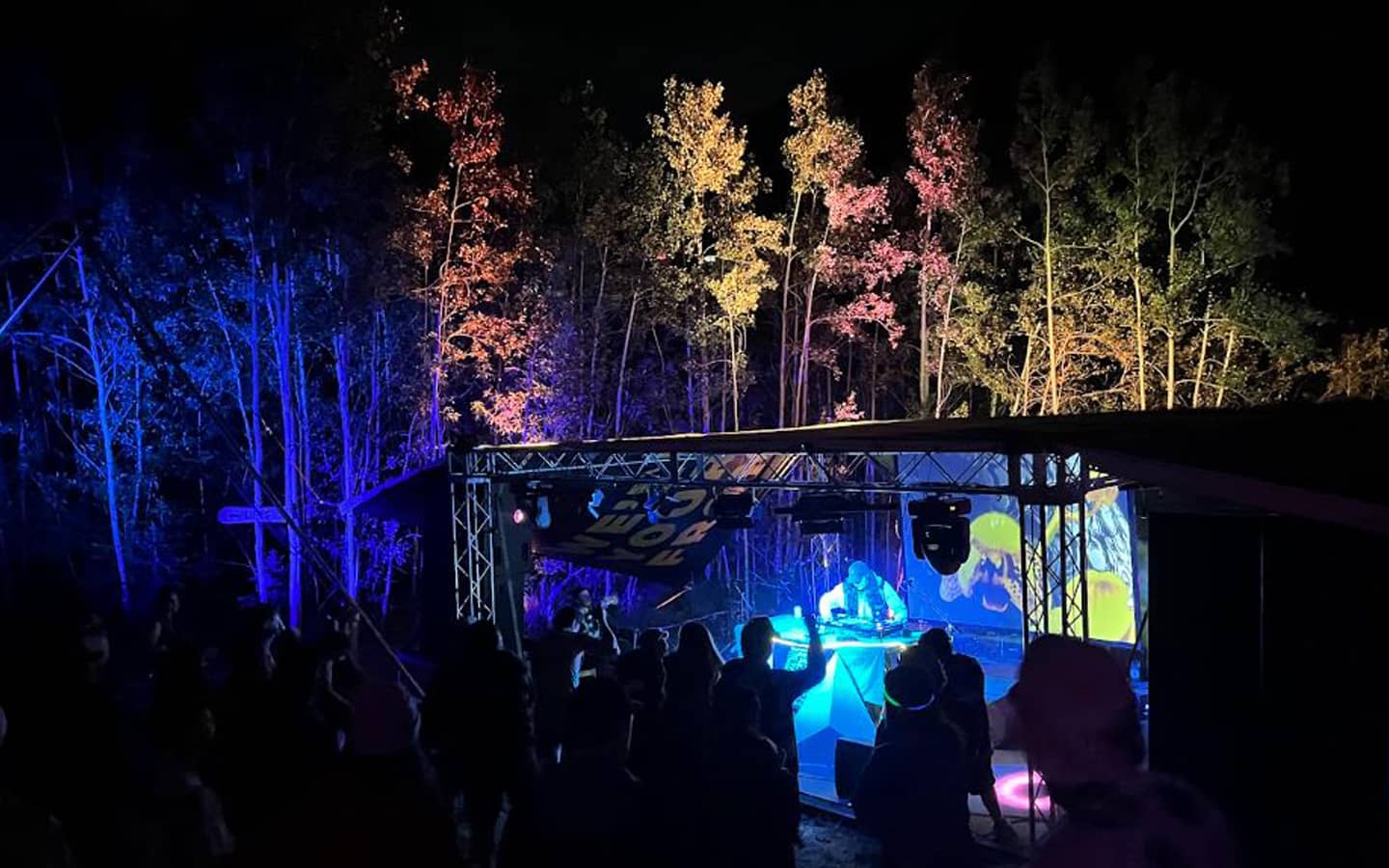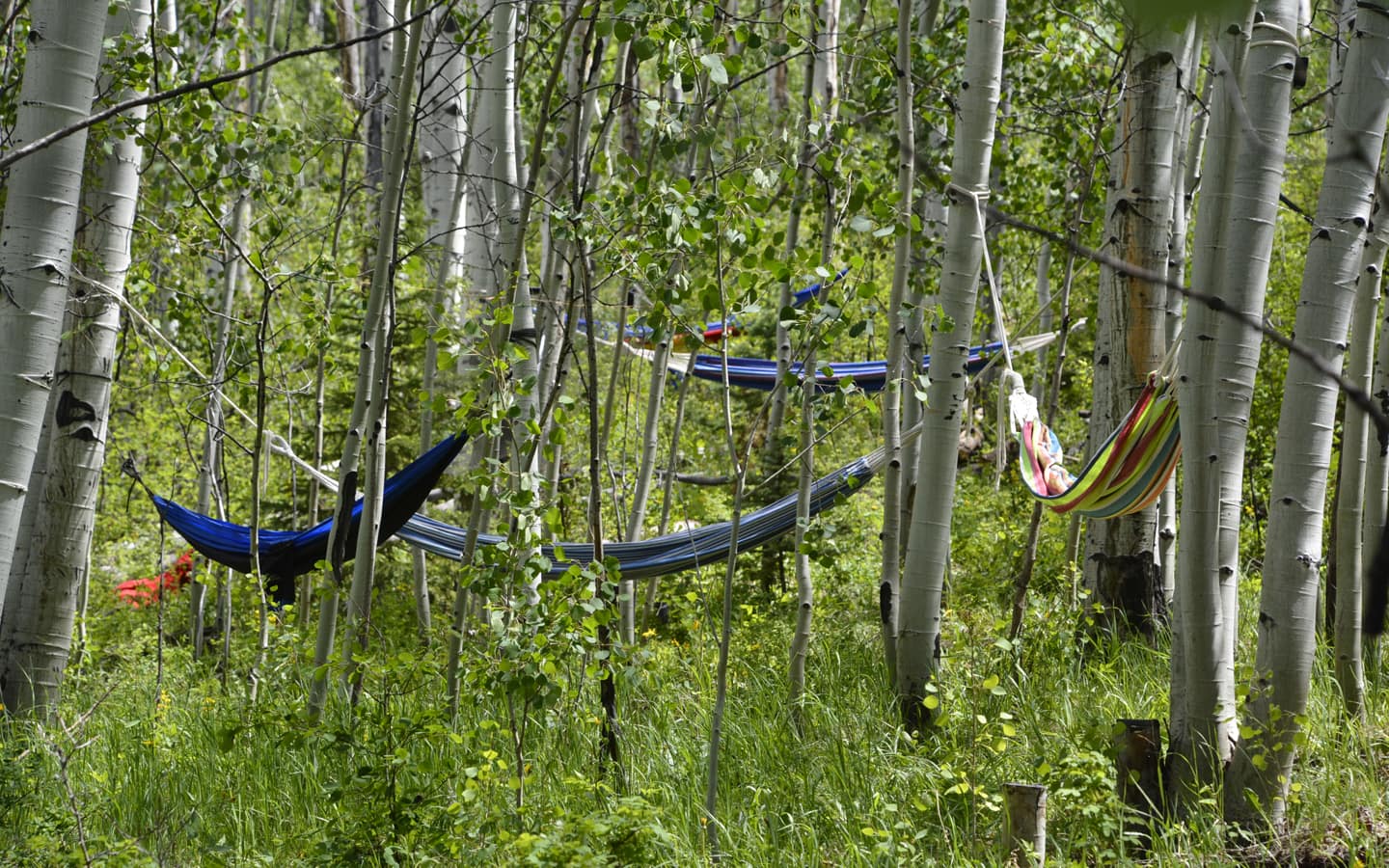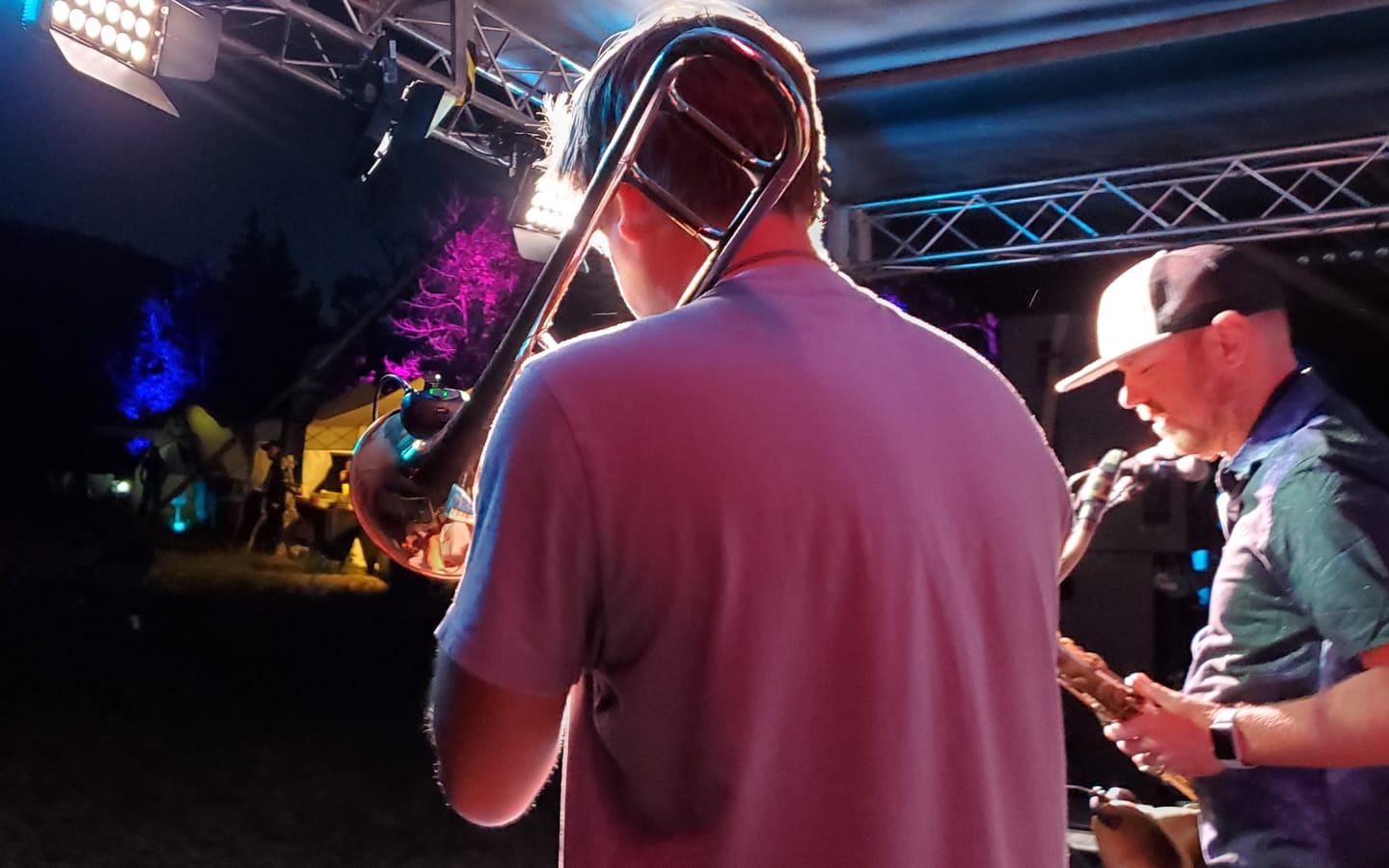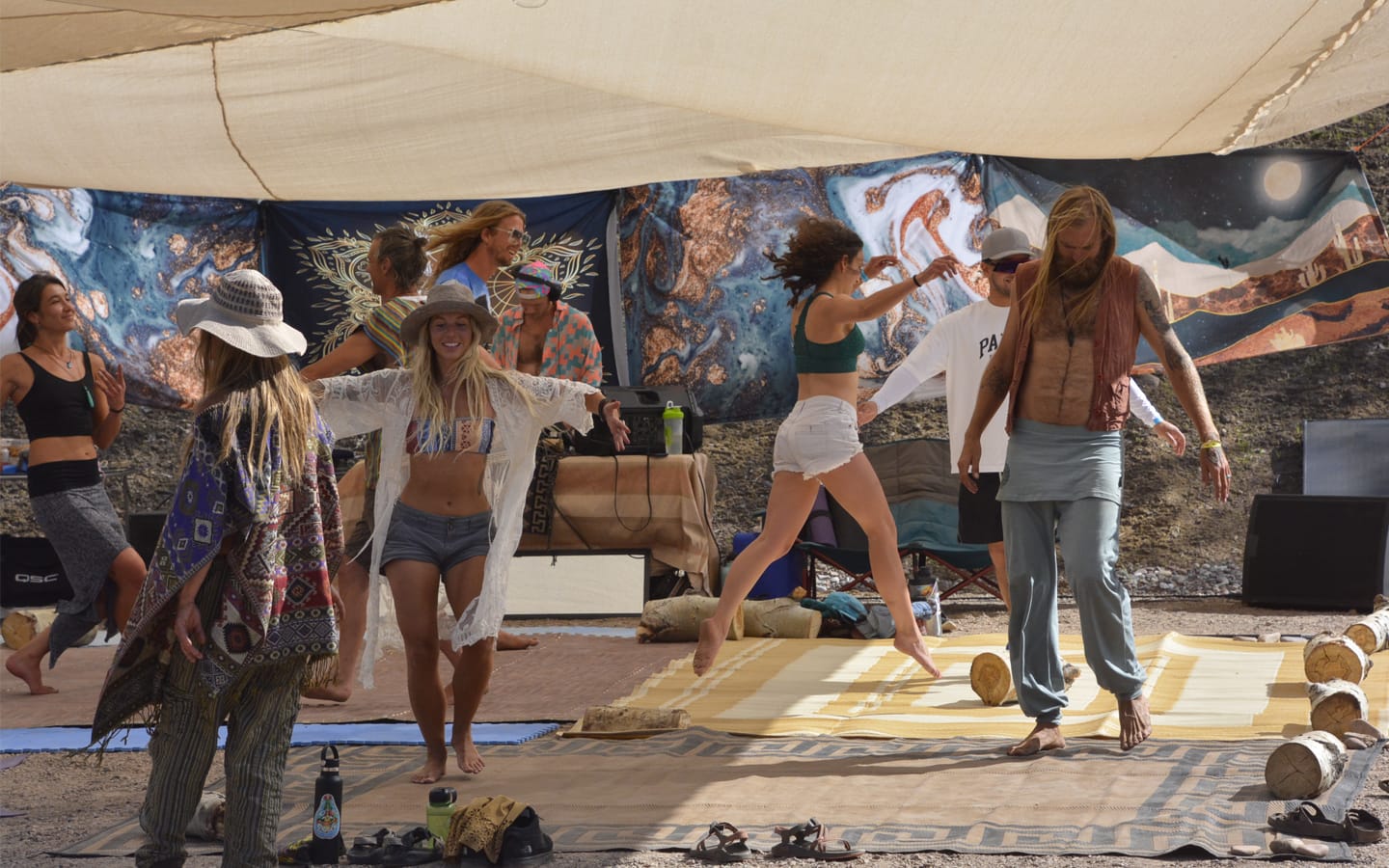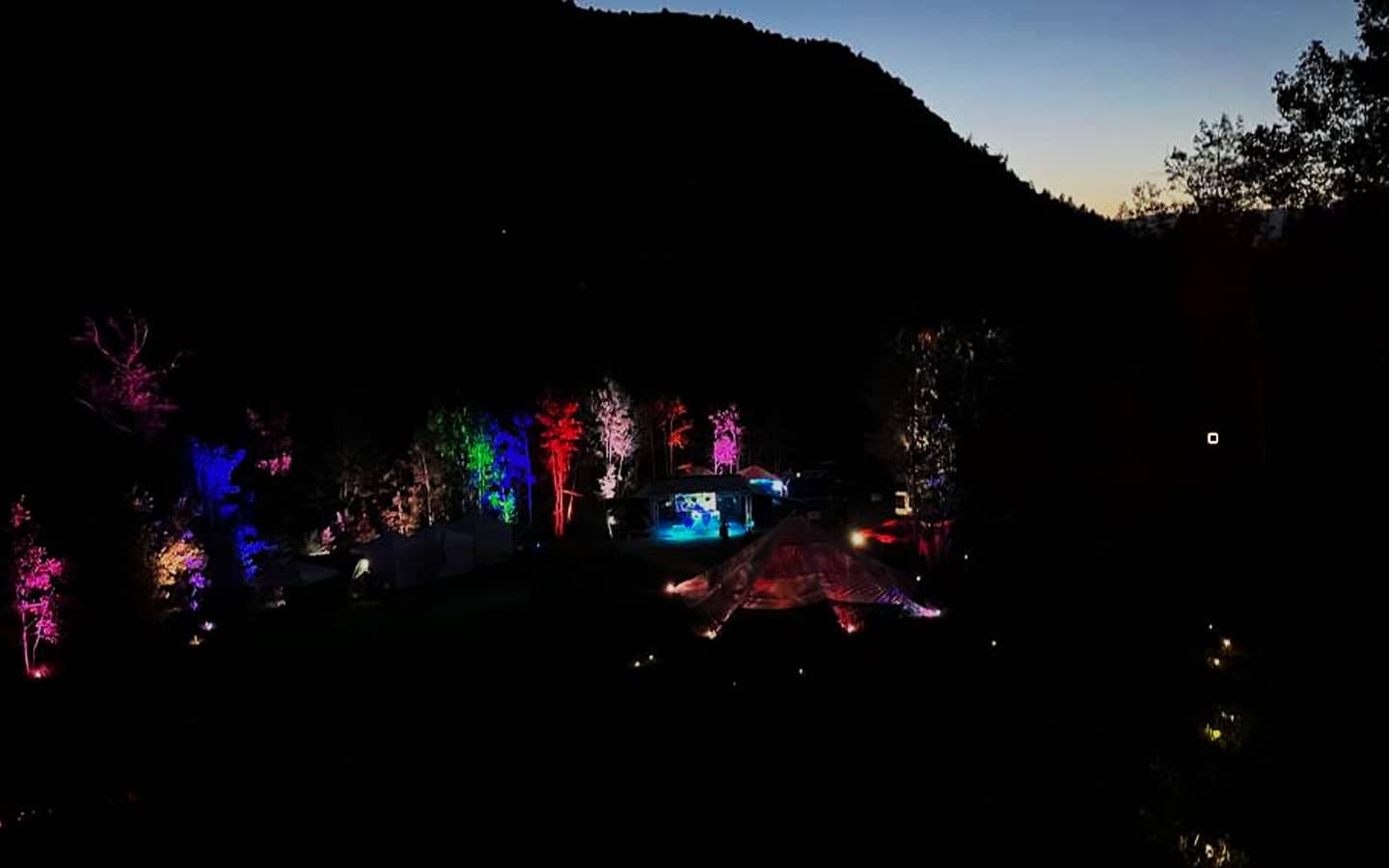 LET THE FESTIVITIES BEGIN!
Welcome to Grovestock, the Roaring Fork Valley's very own festival of the arts, music, and movement! We're excited to invite you to experience a weekend full of expression, adventure, and connection at Sunlight Mountain. Whether you're seeking live music during the day or late-night EDM sets until 3:00 AM on the main stage, we've got you covered. We would love for you to participate in building YOUR art and join our volunteer team to help make this event even more special. Plus, explore our festival map to plan YOUR adventure, peep the lineup, buy tickets or even apply for an art grant. Don't miss out on this three-day, two-night event filled with good vibes and fun!
PLAN YOUR EXPERIENCE!
There is truly something for everyone at Grovestock. Whether you are a family seeking a weekend getaway or a late-night party animal, planning your experience and knowing what to bring can help you choose the right ticket for the desired experience. Click below to start planning your festival experience and get tips on what to expect.
To ensure your comfort during your stay at the festival, it's important to bring everything you need. Keep in mind that this is early September in Colorado, at an elevation of 8000 ft. The camping areas are gravel lots, so be sure to bring adequate tarps, padding, and shade. We recommend that you bring everything you would typically bring on an adventure trip.
Here are some ideas for items you should bring: water bottle, sunscreen, blanket, camping chairs, warm clothes, debit or credit card, good footwear, costumes, decorations, flow art equipment, camp snacks, late night snacks, yoga mat, headlamp and lights for the night, hula-hoops, bubbles…ect.
You are encouraged to enjoy the delicious food and beverages provided by our vendors. However, we recommend bringing your own favorite snacks. 


If you buy a Daytime Pass: 
Bring essential items and warm clothing for an outdoor adventure with music.

If you buy a Nighttime Pass: 
Bring all the same items as a Daytime Pass with  lights for walking around. We encourage you to make yourself glow and decorate your camp to express your groups personality.

If you buy a camping pass: 
Review camping information below.
* Late night food may not be available, so please plan accordingly. 
* Please note that you may not have cell phone service, so plan accordingly.
* Please note that no alcohol will be allowed past the Festival Entrance Gate. Sunlight's Bar(s) will provide drinks inside the Festival Grounds.
Tickets for Grovestock can be purchased online or at the gate. The ticket gate opens at 10:00am on Friday, September 1st.
It is recommended that you purchase tickets in advance to avoid long waits at the gate.
There are several ticket options available depending on the length of your stay and what you want to experience.
Be sure to check the Festival Hours to choose the right ticket for you and your group.
If you purchase a Daytime Pass, you will need to leave the festival by 9:00pm each night.
If you purchase a Daytime Pass, you can upgrade it to a Nighttime Pass on site, though prices and availability may vary.
If you purchase a Night Ticket, it is highly recommended that you camp, to avoid driving under the influence and to help the festival and the community thrive.
If you do have to leave at night, be sure to have a designated driver for you and your group.
*The entry gate will be closed to re-entry at 12:00am, even if you have purchased a Nighttime Pass or a Camping Pass.
If you purchase a Weekend Camping Pass, which includes access to all daytime and nighttime hours, as well as camping on Friday and Saturday.
*Please note that you must be 18 or older to purchase a ticket and sign a waiver.
*All ticket holders must have a signed waiver to enter the festival grounds.
*If you are 17 or younger, you must be accompanied by an adult and have a parent or legal guardian sign a waiver for entry.
*By signing the waiver, you agree to follow the festival rules and guidelines. (See Below)
Camping passes may be purchased separately online or at the gate. Overnight campers must abide by check-in and check-out times, and space is limited, so it's recommended that you purchase your camping pass in advance.
The camping area at Sunlight will be divided into three main sections:
1. Family Car Camping
2. GA Car Camping
3. GA Tent Camping
If you're tent camping and wish to drop off your camping gear, simply speak with the attendant at the gate.
The parking attendants will guide you to the Gear Drop Turnaround. We kindly request that you unload your camping equipment within 10 minutes to allow others to do the same. Afterward, you can return to the Day Parking lots to park your vehicle.
*Please keep in mind that some lighting will be used throughout the night for safety purposes.
*Security personnel will also be available and roaming the area.
Upon arrival at the festival, your tickets will be checked at the gate. A parking pass must be purchased to access the Daytime Parking lots.
If you're planning to park your car for the day, the Day Parking area is located in Sunlight's upper main parking lots. (See Festival Map Below)
A parking pass can be purchased as an add-on to your ticket or separately for additional vehicles.
* 1 Parking Pass Per vehicle
Attention all thrill-seeking, adventure-loving volunteers! 

Grovestock Festival 2023 is calling on YOU to help us create the most epic event of the year! 

We need your help to build and run Grovestock, and in return, we're offering some seriously awesome Volunteer Rewards.

Get ready to surf the slopes at Sunlight Mountain in 2023-2024 Ski Season Get a Day Ski Pass!
But most importantly, your help is essential to the festivals success. We couldn't do it without you, and we appreciate your dedication and hard work to help make this event unforgettable. So sign up now and join the Grovestock family for an unforgettable adventure in the beautiful mountains of Colorado!

This year, the Kid's Zone at Grovestock will be hosted by Rainbow Lightning, a grassroots, Denver-based nonprofit organization dedicated to creating a safe environment for youth and the community.
Their mission is to inspire and empower young minds to stay clear and substance-free while fostering holistic development through their guiding principles of sustainability, wellness, creativity, self-expression, community, growth, and love.

The Kid's Zone offers a weekend filled with co-creative activities and interactive educational experiences, providing a wide range of artistic outlets without limitations. Rainbow Lightning is committed to minimizing their carbon footprint and powers the entire camp and workshops using a homemade solar-powered generator.

Some of the activities in the Kid's Zone include sewing, costume making, tie-dying, and face painting (in preparation for daily parades), as well as workshops on primitive skills and permaculture to promote sustainable futures. There are also sessions on yoga, qi gong, movement, and play to keep our bodies limber and healthy. Additionally, there are daily open mics and talent showcases to create a musical flow and foster teamwork.
The goal of the Rainbow Lightning village is to provide a fun and educational experience for all attendees. They aim to impart valuable life skills and create lasting memories.
To support this offering at Grovestock, you can purchase the Rainbow Lightning Add-on along with your ticket, either online or at the gate.

Please note that anyone aged 17 or younger must be accompanied by a parent or legal adult guardian. To learn more about the Rainbow Lightning Team, visit their website at http://www.rainbowlightning.org/.
Get ready to unleash your creativity and dive into a world of art, music, and healing at Grovestock Festival 2023! We've got an exciting lineup of workshops that are absolutely free to attend.

Friday: 
2:00pm – 3:30pm Ecstatic Dance 
Saturday:
8:00am – 9:00am Sound Meditation
9:00am – 10:30am YOGA
3:00pm – 5:00pm Ecstatic Dance
Sunday:
9:00am – 10:30am Primal Flow Vinyasa
11:00am – 12:00pm Sound & Vocals w/ Olivia Pevec
Grovestock is a festival that values artistic expression and encourages artists to showcase their work in the rugged and natural setting of Sunlight Mountain.
As you explore the festival grounds, you will come across hidden treasures, such as the Hammock Forest, The Sacred Fire, Movement Space, and Fire Garden, among others. We invite you to become a part of these exhibits and immerse yourself in the art and culture of Grovestock.
We ask that you be respectful of all art on the festival grounds and refrain from damaging or removing any artwork. The artists have worked hard to create these exhibits, and we want to ensure that they are preserved for everyone to enjoy. Additionally, we encourage you to engage with the artists and learn more about their inspiration and creative process.
Grovestock is a celebration of art, music, and community, and we are excited to share this experience with you.
YES – Attendees MUST wear a wristband at all times – no exceptions.
PLEASE be mindful of Fire Danger – dry grass, sticks and trees. Don't ruin it for everyone! And please don't throw cigarette buts on the ground.
YES – This is a leave no trace event, so take care of your own trash, pickup others trash if you see it outside a trash receptacle.
YES – Drive Safely – 5mph on all roads.
YES – Bring 1 Gallon of water per day for every camp member.
YES – Cooperation and participation is appreciated.
YES – Be kind, share, make new friends.
YES – Bring your instrument(s), we love music, there might be open mic times throughout the event.
YES – Be safe. Be smart. Don't do anything stupid. It's really that simple.
YES – We strongly recommend bringing your own first aid kit.
YES – Dance freely.
YES – Dogs on a leash at all times. Pick up after your dog. You will get one warning after that you will be asked to leave. No puppies or Dogs with any history of "Dog Drama" zero tolerance for dog fights, you will be asked to put your dog away either in your tent or RV.
YES – Bring an open minded attitude.
YES – Bring your Art.
YES – Group Gifts are encouraged.
NO – Campsite fires. Only camp stoves are allowed. We will have designated group fires burning as long as there are no fire bans preventing them at the time.
NO – Underage drinking. This is the law and will be strictly enforced.
NO – You cannot bring your own alcohol into the event.
NO – Glass.
NO – Fireworks or Laser pointers.
NO – Firearms or weapons of any kind.
NO – open fires or unauthorized fire dancing except in designated areas.
NO – Generators are NOT allowed in the camping area.
NO – Absolutely NO outside alcohol is not permitted on the festival grounds, however you may bring your own alcohol to your campsite. We encourage people to stay mindful when consuming alcohol. No human drama will be tolerated.
NO – Entry or Reentry after Midnight . You can leave whenever you want but after midnight no one will be allowed in. Please be responsible and do not drink and drive.
Location, Location, Location…
Festival Map
Articles About Grovestock